This is an extension plugin for Magento for using Omise Gateway as a payment method.
Magento Community Edition is an open source e-commerce software used to power online stores which can be downloaded for free. Developers are able to modify the core code and add features as well as functionality by installing extensions from the Magento Connect marketplace. Magento is owned by eBay.
Omise extension source code is available at github.com/omise/omise-magento
Requirements and Installation
Magento Version Compatibility
Compatible with all Magento 1.9.x versions
Dependencies
Installation
Follow these steps to install omise-magento:
Download this repository and unzip it into your local machine or directly to your server.
Download links: omise-margento-v1.11.zip or omise-margento-v1.11.tar.gz

Go to /omise-magento-1.11/src and copy all files into your Magento Project

Open your Magento website, then go to /admin page
Provided that everything went well, the Omise menu will appear at the top of your admin page.

Enabling Omise Module
To enable Omise Payment Gateway on the checkout page, you have to first enable omise-magento module from Magento's configuration page, under the payment method section.
From the admin page, go to Omise > Module Setting (from the top menu). This will lead you to Magento's payment method configuration page.


You will find a tab labeled Omise Payment Gateway at the bottom of the page.
Set Module Enabled to Yes to activate Omise Payment Gateway module. Then click save.


Certain business models may prefer to capture the charge at a later time. For example, only capture charges when there's product in stock or when ready for shipping. In this case, Omise will only authorize and hold the charge. Charges can be on hold for as long as the issuing bank permits. The duration may vary from 1 to 30 days depending on the card used.
The 2 available options for Payment Action are Authorize only and Authorize and Capture.

The other option is New order status, which can be set to Pending or Processing, depending on the business model.
Omise Keys Setup
In order to use omise-magento you have to link it to your Omise account using your credentials:
From the admin page, go to Omise > Keys Setting (from the top menu)


Fill in and save your Omise Keys. If you'd like to test our service and learn how things work, you can do so by clicking Enable test mode. This puts your test keys in use. Note that the set of keys you use determines whether actual money will be transferred or not.

Checking out with Omise
After setting up your keys, you can now start processing checkouts with our payment gateway. In order to test it, make sure you set up your test keys and enable test mode.

Go to your website and add items to your shopping cart.

From the cart, go through the regular checkout procedure. Pay attention to step 5 Payment Information (or 4 if you've already logged in)

You'll find a new field, Credit Card (Powered by Omise). Use one of our test cards to fill out the form and click continue.

In the previous step, a credit card token was created to be used with Omise Charge API. If the card is authorized, go ahead and click Place Order.
Learn more about collecting and processing cards by checking out these docs: Collecting Cards and Charging Cards)


Once complete, you will be redirected to Magento's Thank you page.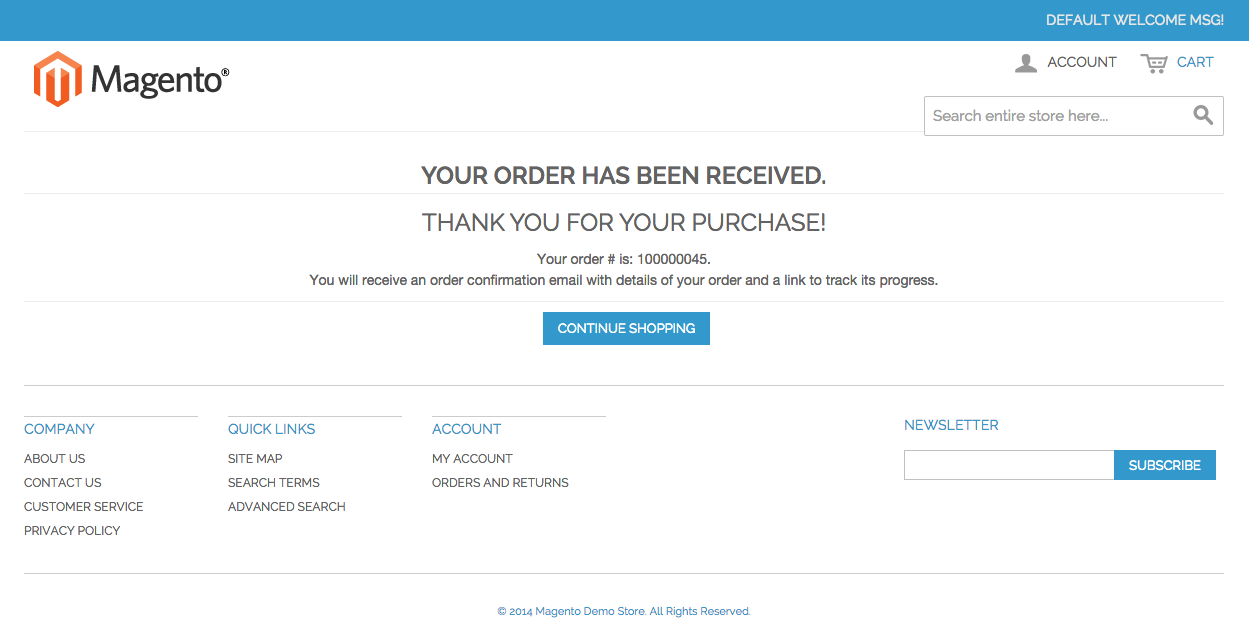 To view your order status, head over to your admin dashboard orders section: Sales > Orders. You'll find the order either in Pending or Processing depending on your configuration.